After we had the idea, next step was to build it and get the users. Most of the shell of the app had already been done, the first thing that occured to us was that we needed to fill up our web app with some content.
From IVLE student events, we manually filtered through the paid surveys and research opportunities. We added them to our site, but at the same time emailed each of the researchers that we had done so, and when there were interviews we emailed them the interested participants.
We had also emailed Anthony unknowingly from the previous CS3216 batch as he was managing the IVLE announcments as part of NUSSU CommIT, and he even advised us to learn from AirBnB's growth hacking tactics. We didn't have a craigslist to take users from but IVLE student events was a good starting point.
Some of the emails that Xu Jie sent out did not get any replies, but a few replied enthusiastically, even commending us that they had built something better than IVLE. Well, that was definitely encouraging, we could also use it in our STePS poster.
We also managed to get an event posted in IVLE!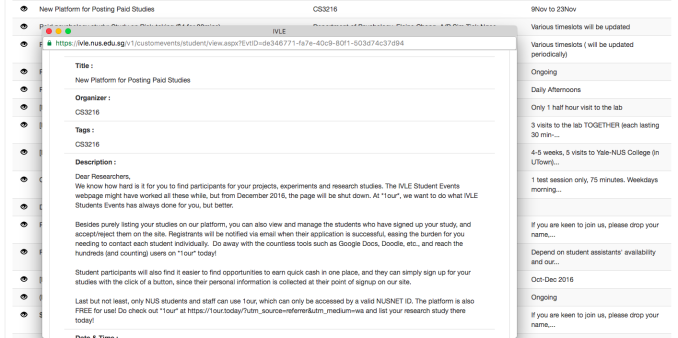 Other things we did were also to go down to the paid studies themselves and advertise to the participants as well as researchers. Research studies were our main user base as they had an urgent need for their FYP research interviews and surveys especially from the Psychology department, and IVLE student events would be unavailable in December.
Within around 3 days we had around a hundred users, I'd say it went ok, and things were (finally) looking better (even great) for our team.
We also talked to OSA, who initially agreed to help us send an email blast, but at the last minute told us that they were not allowed to due to no clearance, which was kind of expected. But at least they helped us share it on their facebook page, which also helped our marketing.