Repo links & deployments of recent applications contributed to:
Description:
1our is a platform for NUS students maximize their time in school, and get paid for it. We do this by bringing them fun and interesting projects, studies as well as experiments that they can be part of. 1our also wants to help NUS student researchers and professors succeed in whatever they are doing, be it a study on decision-making behavior or an experiment pushing the frontiers of science.
Stack: React, Webpack, PostgreSQL
Features:
NUS OPENID login
Time slots for each ad-hoc jobs
Tracking of money earned through platform
Listing of adhoc jobs by category with sorting and filtering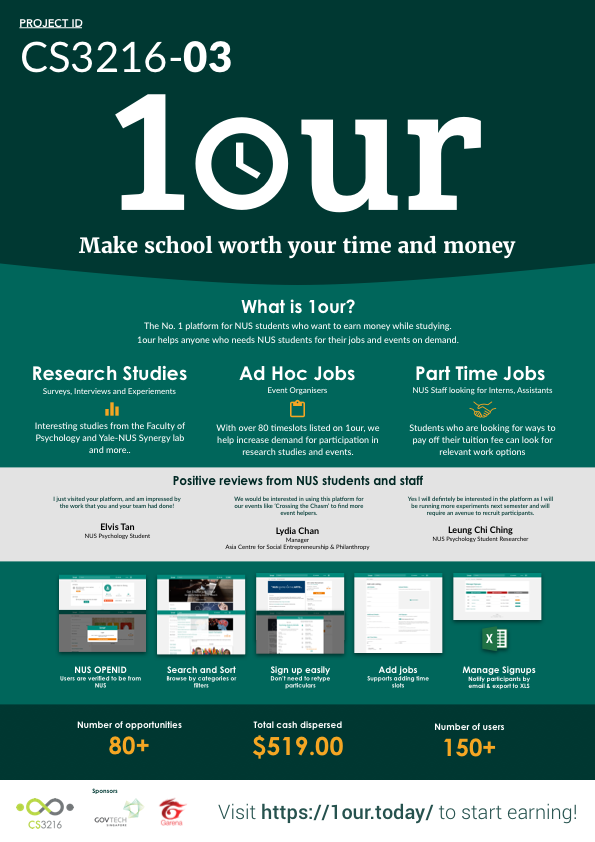 Description:
Realtime chat application where you can drop emoticon pins on a pokémon GO themed map, supporting videos and soundcloud links. Got above average for this but I thought we could have polished it a bit more if we had more time. Uses facebook login.
Stack: React (using Create-React-App boilerplate), MySQL
Features:
Real time updates of 'drops', votes, comments using socket.io
3D Vector Map view using Mapbox GL
Offline caching with sw-* packages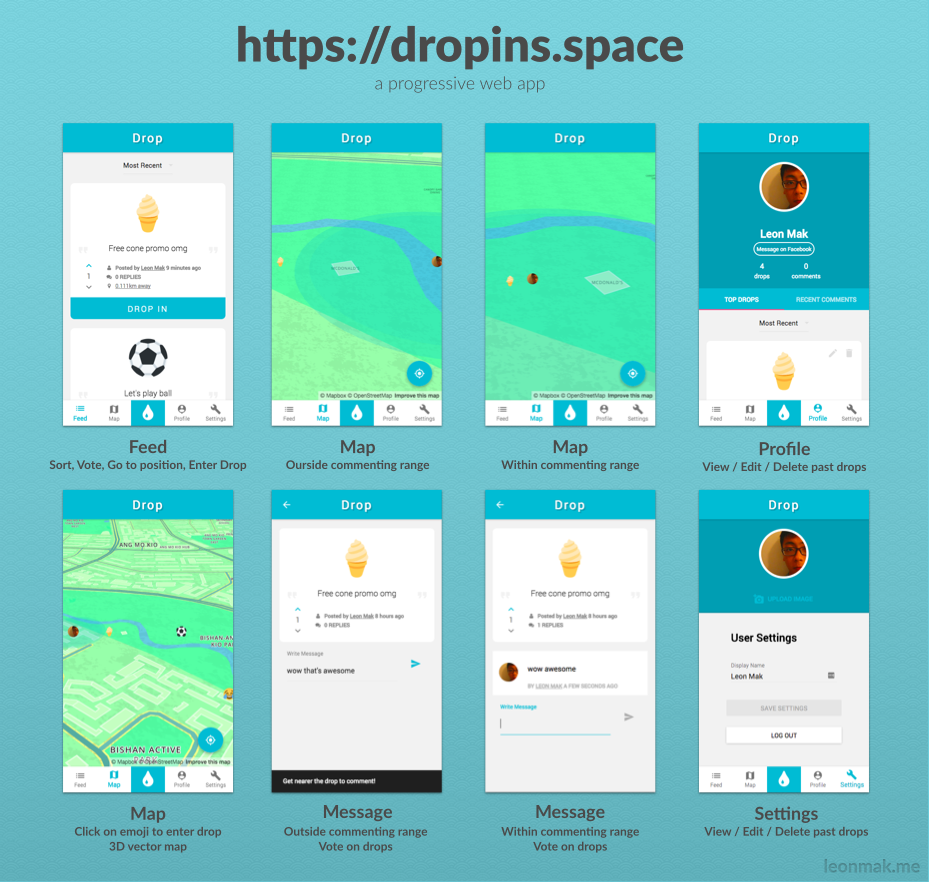 Free4all
Sharing freebies on a real time map
Orbital 2016 project with SoC student Irvin Lim
Stack: ReactJS, MeteorJS, MongoDB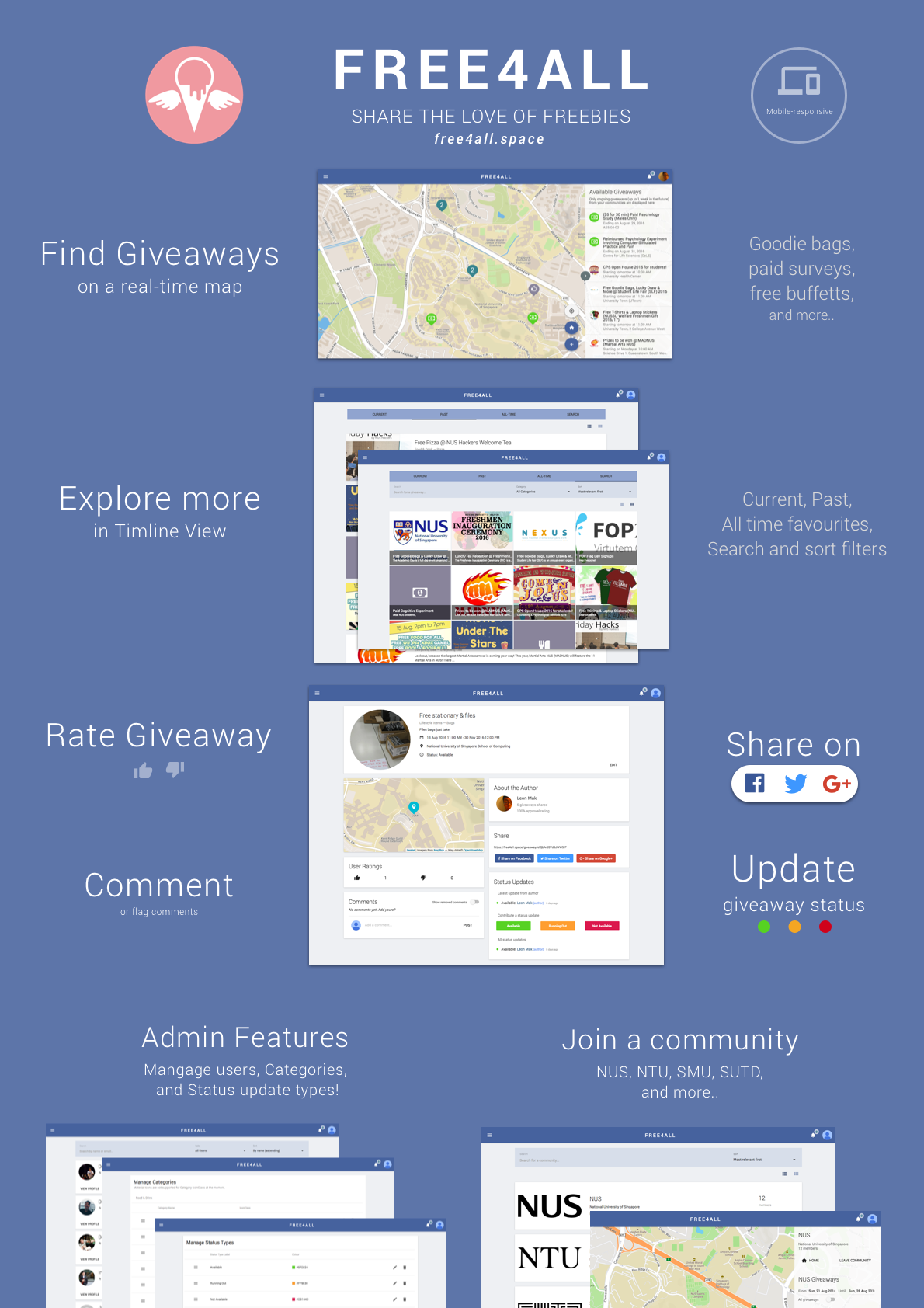 Description:
Web application for exchangebuddy.com started by Eugene to connect people going for exchange programs. Parts of Facebook API used: facebook login, facebook events API. We received the highest 'coolness' factor points but we got about average overall mainly due to our report being rushed, and thus not answering some of the questions properly.
Stack: React, MeteorJS (for real-time pub-sub), MySQL
Features:
Grouping exchange students by their exchange batch
Real-time chat for exchange group
Events lookup (using facebook and meetup.com API)
Collaborative editing of tips
Loklak walls
Social media wall for loklak (distributed scraper) based on loklak.net
Google Summer Of Code 2016 project with FOSSASIA
Stack: MEAN (MongoDB, Express, AngularJS 1, NodeJs)
Features Contributions:
Integrated MongoDB to replace java(loklak_server) backend
Social account linking w/ Passport.js
Manual moderation w/ Socket.io
Statistics for tweets w/ D3.js
Announcement feature w/ Socket.io
Image Support w/ Cloudinary
Meetbuysave
Chat & map web application for shopping deals
HacknRoll 2016 submission
Stack: MeteorJS, MongoDB